<hero description="SUandHehxels maekd dis wehkee beecaus potatos and eye liek mehxels and wehkees so soo me." imagename="" cropposition=""></hero>
Welcome to the Teh Ahsom Mehxels Wehkee Wikia
Edit
SUandHehxels maekd dis wehkee beecaus potatos and eye liek mehxels and wehkees so soo me.
Hoo R U? Hoo Am I? Wut Es Lyfe?
Edit
Dis Wehkee Is 4 Peepol Frum Deh Origenol Mehxels Wehkee
NOW PIELORDMAT TAKE OVER NANNYNANNYNANNYNANNYNANNYNANNYNANNYNANNYNANNYNANNYNANNYNANNYNANNYNANNYNANNYNANYNANNYNANNY. YEY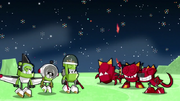 Teh Ehloominooty Poot Dis Part Heer
Edit
Community content is available under
CC-BY-SA
unless otherwise noted.